What Does a Title Company Do?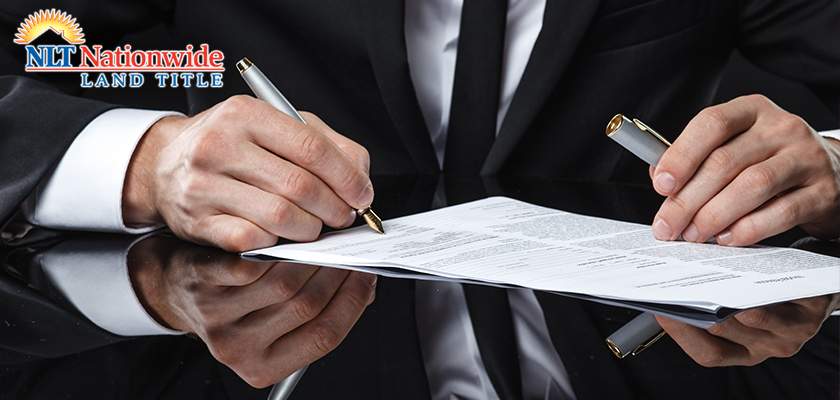 What Does a Title Company Do?
What does a title company do? When buying a property or commercial business, you want to ensure that everything goes smoothly, so no delay happens at the time of the closing. If the day of the closing has already been accepted, you can get the help of our professionals who can assist you with your home buying process. And there's no better company than a title company to help you in this regard.
Following are some of the services a title company does for you:
Creates the abstract of title
Issuance of title insurance
Preparation of commitment of title insurance
Records the deed at the county clerk's office
Act as the closing agent
Why Hire the Services of Nationwide Title Agency?
As Florida's leading title company, we offer a wide range of title services for both residential and commercial properties and help mortgage brokers and real estate agents with residential and commercial real estate transactions. Nationwide Title Agency brings all aspects of your real estate transaction together. Our dedicated staff has earned a reputation for providing high-quality title services throughout Florida.
Our Services
Title Services
Nationwide Title Agency is recognized for quality performance when it comes to title services. We handle all title assignments in an efficient and friendly manner, whether you are refinancing or selling your home
such as real estate property closing services, refinancing and purchase transactions.
Short Sales
Short sales can be very stressful and time-consuming. We remove any confusion between the lender and seller as we monitor the entire process to make sure that your short sale transaction is finalized smoothly. Furthermore, our short sales are attorney negotiated. The load officers, agents, and the client are updated every step of the way with our state-of-the-art file management system.
Realtor Assistance
To obtain a payoff, we work directly with the seller. We collect all the necessary documents to process the sale efficiently.
Lenders Assistance
The requirements of every lender are different as to how a short sale must be handled. Homeowners and lenders can rely on Nationwide Title Agency to be a neutral third-party processor working in the best interest of the client/seller throughout the entire short sale process. We work as a liaison between the homeowner, realtor, and lender to streamline the process and resolve the matter efficiently and quickly as possible.
Nationwide Title – What Does a Title Company Do
Whether you are a first-time real estate buyer or have a previous refinancing, buying, or selling experience, Nationwide title will take you step by step through the real estate process. Our professional agents are qualified to answer any questions before the closing from start to finish. Call you today 954- 755-8210 or to fill out a quick form.
Follow us on Facebook.